Fitter, faster, skilled lifeguards save lives
The Mount Maunganui Lifeguard Service enjoys a long history of being one of New Zealand's strongest clubs in the competition arena, having won dozens of national titles both on the beach and in the pool over recent years. Competitive Lifeguarding gives lifeguards the opportunity to train and test their abilities across a range of disciplines, with our squad training all year round, under world-class coaching.
Membership for the next seasonis open now!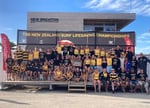 Competitive Lifeguard Senior Squad
Under coach John 'Spindles' Bryant, Mount Maunganui Lifeguard Service senior competitive lifeguard squad has a proud heritage, having won a record number of national club titles on the beach and in the pool; with members regularly making New Zealand open and junior representative squads.
Competitive Lifeguarding Membership: Coaching: $330.00 Board Hire: $170.00 (allocated by the Head Coach) Ski Hire: $280.00 (allocated by the Head Coach)
Our competitive lifeguards train Monday - Saturday on the beach and in the water, over both board, ski and beach disciplines.
All competitive lifeguards are aged 14 and over and hold a refreshed 'Surf Lifeguard Award' and are particiapting in volunteer lifeguard patrols with Mount Maunganui Lifeguard Service. Contact info@mountlifeguards.co.nz if you are keen to join our Senior Competitive Lifeguarding squad.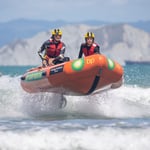 Inflatable Rescue Boat (IRB) Racing Squad
IRBs save more lives than any other piece of surf life saving equipment. They're designed to get in and out of the surf quickly, and IRB racing helps hone those skills in lifeguards. Take your development further by completing the IRB Crewpersons Module (IRBCM) and The Senior Lifeguard Award - IRB Driver (SLA-IRBD), and joining the IRB Racing Squad. Details on both courses can be found here.
Contact the club if you are interested in participating in, or supporting our IRB Racing Squad; so we can save more lives on the beach and have a bit of fun as a team along the way! The squad trains one weekday evening and one weekend day currently. The Squad competes in the Eastern Region and New Zealand IRB Championships, along with several other events in the year.
For more information on joining our squad contact the club on info@mountlifeguards.co.nz