Based at the foot of Mauao on the stunning Mount Maunganui peninsula, the Mount Maunganui Lifeguard Service has been keeping the public safe for nearly 100 years.
With more than 500 members, the club is dedicated to volunteer lifeguarding and land-based rescue services on and around Main Beach, Mauao and Pilot Bay. Volunteers spend thousands of hours each year patrolling the beach and coastline, from Labour weekend to Easter Weekend, as well as providing a year-round, emergency response squad.
Last season, our dedicated volunteers spent more than 5,000 hours patrolling our beaches, undertaking 490 preventative actions to stop people getting into danger, completing123 rescues, 19 searches. Our emergency response squad also attends to an average one call-out per week. As the primary responders for incidents on Mauao, they often perform first aids and help other emergency services deal with incidents including search and rescue, body recoveries, fires and Coastguard call-outs.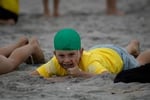 The beach is a fantastic place for kids and we provide a junior surf programme for 5-13-year-olds, focused on fun, skill development and improving confidence in the water. These juniors are not only our future lifeguards but future leaders in all walks of life.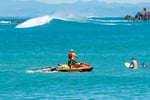 From 14, anyone can become a lifeguard after going through our surf lifeguard award training programme. We've got members from a huge range of backgrounds and a wide variety of skill-sets helping keep beachgoers safe.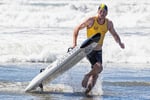 Our Competitive Lifeguards are among the best in the world, continually producing amazing results at both national and international level. Competition plays a huge part in preparing lifeguards to meet the physical and psychological demands of saving lives in the surf - fitter, faster lifeguards save lives.