IT'S BACK - 10am SATURDAY 16TH DECEMBER 2023!
Developed in 2012, the Mount Monster is New Zealand's most prestigious surf lifesaving endurance race.
Athletes from across NZ gather each December on Mount Maunganui's Main Beach for their chance to race on one of the most spectacular coasts. You'll be inspired by the terrain but also challenged by the running, swimming, ski paddling and board paddling, with a few fears tested by the iconic rock jump. Whether competing in a team or as an individual, lifeguards use this event to become fitter, faster and more skilled, as they hunt Mount Monster glory.
ENTRIES ARE OPEN FOR MOUNT MONSTER 2023
TO REGISTER FOR THE 2023 EVENT: Please click here.
The 2023 Mini Monster event will be held Friday 15th December with the top 12 finishers (male & female) receiving entry to the Mini Monster final - Saturday 16th December. Friday's event will begin with a race briefing at 3pm and racing from 4pm.
Mini Monster entries have been increased to 50 male and 50 female competitors to allow for a greater number of competitors. Entries for the 2023 Mini Monster are open now!
ENTRY FEES:
Early Bird Entry

Standard Entry

Late Entry

(from 16th November to event day)

MINI MONSTER*

$40.00 until sold out

INDIVIDUAL

$115.00 (the first 50 entries)

$145.00

$205.00

TEAMS

$230.00 (the first 30 entries)

$290.00

$410.00
*(limited to 100 competitors - 50 male and 50 female)
TO REGISTER FOR THE 2023 EVENT: Please click here.
Follow our Facebook page to keep up to date, key event information, and take advantage of our wonderful sponsors promotions leading up to the event.
Withdrawals & refund policy
2023 refunds –
100% Refund – individuals/teams withdrawing before Thursday 16th November 2023

75% Refund – individuals/teams withdrawing before Sunday 10th December 2023

No refund will be given after Monday 11th December 2023.
COURSE INFORMATION
The pre-set order of events is as follows for individuals and teams;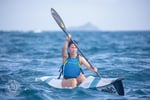 A minimum of a 50N PFD is required for the Ski discipline. There will be a PFD check on the start line.

Let the racing begin! Pick up your craft and head straight out to sea, where you will head out to North rock, then paddle down the coast towards Omanu. At Omanu paddle into shore where a flag in knee deep water will be, that you must round before making your way back to Mount Main beach.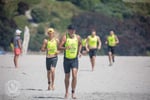 After the 12km Ski paddle, you'll start your 5km soft sand run to the Tay St turnaround and back. Shoes and socks may be worn.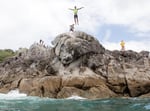 After heating up from the run leg, get ready to jump off the 'blowhole' on Moturiki Island into the refreshing water below.

Competitors can choose to do the traditional 6m jump or opt for a 1m jump. Exit the water in shark alley and run between the flags to complete the remaining swim component.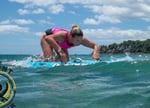 You're almost finished! Paddle around North rock, this time making your way to Motuotau Island. Round Motuotau island, left to right and make your way back to the main beach. Run through the transition to complete the 6km Board leg and THE MOUNT MONSTER!!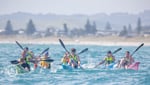 The teams event can consist of 2-4 members.
The Mini Monster will be a M-shape swim/board ironman for under 14 athletes. It will start with a swim (600m) then the board leg (1200m) with long run (600m) transitions in between. The finish will be under the archway on the Main Beach.

The field of athletes is restricted to 100 (50 Males and 50 Females).
Age Categories
Individual
Mini Monster (aged 12 to under 14)

Under 19's (aged 14 to 18)

Open (aged 19 years to 34)

Masters (aged 35 years to 49)

Veteran (aged 49 years plus)
Team
Under 19 Male team/Female team/Mixed team

Open Male team/Female team/Mixed team

Masters Mixed team

Veteran Mixed team
For further enquiries about this event, please make direct contact with the event manager: