All new or previous members register HERE for the upcoming season. First session is Sunday 31st October 10am. You will be able to purchase the Nippers rash top that day also ($35 each).
The beach is a fantastic place for kids and we provide a junior surf programme for 5-13 year olds, focused on fun, skill development and improving confidence in the water.
There are plenty of opportunities to get your youngster involved, with our Nippers programmes running on Sunday mornings and Wednesday afternoons, surf sports and lifeguarding squads to join and our superb school holiday programme!
Junior Surf - Building Skills on the Beach
Junior Surf starts with our Nippers programme running every Sunday morning from 10.00am–12.00pm starting 31st October and Wednesday afternoons 4.00–5.30pm starting 10th November during the school terms. We take a break over the Christmas/New Year period.
Junior Surf Membership $100 per child
Junior Surf members can choose to join the Oceans programme as a 10-13 year old to be the next generation of competitive lifeguards. If you love being out on the water and racing up and down the sand this Oceans programme could be what you are looking for. Children new to this competitive programme may be required to attend an assessment to ensure this is the right programme for them.
Training starts Monday 16th October, running Monday to Friday 4.15–5.15pm and on Saturday from 10.00am–12.00pm. You don't need to attend every session – just pick the ones that suit!
Junior Surf Membership: $100 per child Additional Oceans Coaching Fee: $265.00 Board Hire Fee: $160.00 (allocated)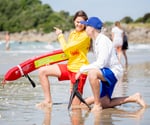 Rookie Lifeguards - Lifeguards in Training
The Rookie lifeguard programme is a transition from Nippers/Oceans into active lifeguarding. Rookie lifeguards participate in a training programme and assist lifeguards on patrol until they turn 14. Rookies are 12 (and turning 13 before March 31st 2022) and 13 year olds , who can swim 200 meters in a pool in under 4 minutes 30 seconds wishing to become Lifeguards next season. The Co-ordinator will be in touch with eligible Junior Surf members.
Junior Surf Membership: $100 per child
Junior Surf Holiday Programme
Each year, we run a holiday programme for the 8 and 9 year old junior surf members, providing six weeks of intensive coaching to build skills and keep our younger members active over the summer holidays.
Contact the club for more information info@mountlifeguards.co.nz